SKEMA is located in Sophia Antipolis a science park home for over 1,300 companies, providing almost 30,000 direct jobs in cutting-edge scientific research, in the field of information technologies, multimedia, biology (medical and biomedical) energy, water supply management, risk management, sustainable development… It spreads over 5 cities: Antibes, Biot, Vallauris, Valbonne, Mougins.
Biot : http://www.visit-biot.com/
Antibes : http://www.antibesjuanlespins.com/
Valbonne : http://www.tourisme-valbonne.com/
Mougins : http://www.mougins.fr/tourisme/en/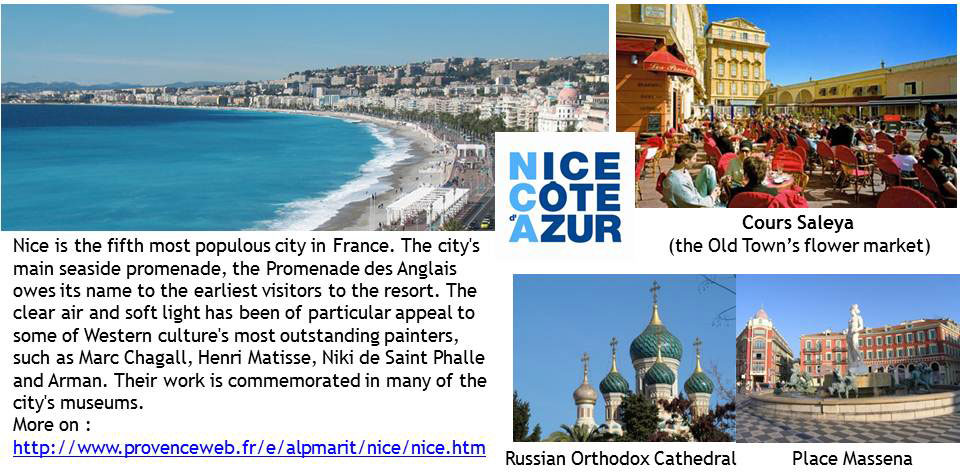 In Nice
Find all information on Nice Côte d'Azur Web Site
Matisse Museum : In a 17th Century Genoese Villa entirely renovated in the heart of the olive gardens of Cimiez, the museum contains the personal collection of the painter who lived in Nice from 1917 until his death in 1954. Works from all periods offer a comprehensive panorama from the first paintings of 1890 to the famous gouache cutouts, 236 drawings, 218 prints and a complete presentation of the books illustrated by the artist. Temporary exhibitions. http://www.musee-matisse-nice.org
Chagall Museum : Biblical scenes illustrated in 17 large paintings, sculptures, stained glass, mosaics, tapestries, watercolors, etchings and lithographs. http://www.musee-chagall.fr
Museum of Modern Art : New Realism, Assemblage Art and Pop Art. A building with original architecture (four gray marble towers linked by transparent bridges) and a large permanent collections tracing the history of European and American avant-garde since the early 60's. http://www.mamac-nice.org
Russian Church: The most impressive of Western Europe. Inaugurated in 1912, this beautiful Orthodox church is a harmonious symphony of pink bricks, light gray marble and brightly colored ceramics. Crowned with six onion domes, it conceals within treasures of icons, woodwork and frescoes.
"Le Vieux Nice" : The old town is a scenic spot, with small pedestrian streets, churches and many restaurants. Here you can admire several monuments such as the Cathedral of St. Reparata, the Cours Saleya with its famous flower market, the Nice Opera and the castle hill on top of which you will discover a unique view over Nice and its surroundings.
In Antibes
Find all information on Antibes-JuanLesPins.com
Musée Picasso Antibes : Picasso, enthusiastic, works at the castle and created numerous works, drawings and paintings.

Following his stay in 1946, Pablo Picasso left on deposit at the Antibes 23 paintings and 44 drawings.

Among the most famous paintings: La Joie de vivre, Satyr, wildlife and centaur trident, The sea urchin Slimer, The Woman with sea urchins, Still life with owl and three urchins, The Goat ...

Archeology Museum : Established in 1963, is installed in the Bastion Saint Andrew military fortification built by Vauban in the late seventeenth century.

Enjoying a privileged location on the seafront, it offers from its terrace an exceptional view over the old town and Cap d'Antibes.

Recently refurbished, two vaulted galleries house the archaeological collections of the city of Antibes, to trace the history of the agglomeration in antiquity.